We've just released another new update to Inform Direct.
This includes lots of enhancements to help you manage company shares and shareholders. As well as small usability improvements requested by users, the new developments include:
Introducing the ability to produce a wider range of documents as part of dividend payments, as well as standalone dividend waivers
Small capital payment option for share redemptions and purchases of a company's own shares, with the ability to create a range of useful minutes and other documents
Manage company shares the easy way
Inform Direct produces an enormous range of minutes, resolutions, forms, letters and other documents to help manage shares
Start now
Documents can be generated for share redemptions and purchases of a company's own shares out of capital where supported by a solvency statement
New and improved documents produced as part of other share reorganisation transactions
Pre-populated forms SH11, SH12 and SH13 can now be produced for companies limited by guarantee, ready to be checked and submitted to Companies House for new and updated membership classes
If there's any other documents you'd like Inform Direct to produce to make it easy to keep on top of share transactions (or anywhere else we can make your life easier!), do get in contact.
---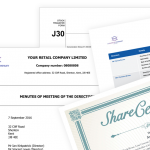 Easily produce amazing minutes, resolutions and other documents - all at the touch of a button
Start now
---