Following swiftly on from the update for shares and shareholders last week, we've just released some further enhancements to help users manage PSCs for their own company or their clients.
You'll now be able to produce pre-populated, tailored board minutes to cover varied scenarios when:
There is a new person with significant control (PSC) or relevant legal entity (RLE)
There is an update to the details of an existing PSC or RLE
The nature of control exerted by an existing PSC or RLE changes
An existing PSC or RLE is removed
A new statement needs to be added to the PSC register or an existing statement is removed
Produce amazing company documents in Inform Direct
Inform Direct produces an enormous range of minutes, resolutions, forms, letters and other documents - all at the touch of a button
Start now
If you generate these documents as part of the relevant process in Inform Direct, all the appropriate details will be fully pre-populated for you – saving you the time of re-entering them. But, for convenience, the documents are all also available on a standalone basis in your Template Library.
With these additions, Inform Direct now supports the production of over 300 company secretarial documents.
---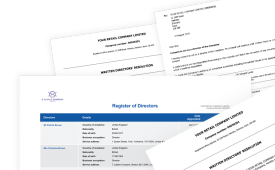 Easily produce amazing minutes, resolutions and other documents - all at the touch of a button
Start now
---