This month, in response to customer requests, we've boosted our already impressive offering of over 350 company documents with a range of additional template minutes, shareholder resolutions and company letters.
The new documents, which you will find in your Template Library, allow you to easily and comprehensively manage the following company secretarial scenarios:
1
Removal or resignation of company officers
We already provide a number of template board minutes and resolutions to support the removal or resignation of a director or company secretary. This latest development provides template shareholder resolutions to amend the articles of association where these contain a provision requiring that the company appoint a company secretary. It also provides template letters of resignation to support a director or company secretary that wishes to formalise in writing their intention to leave office.
The allotment of shares can be an involved process. We've added a whole range of new template documents to provide comprehensive support in this area. There are now template letters allowing the company to invite existing shareholders to apply for new shares; a template shareholder's letter allowing formal application for new shares and a written notification from the company of the shares to be allotted to the shareholder.
We also offer templates to support a wide range of frequently arising issues connected to share allotment. These include:
The removal of an authorised share capital restriction.
The waiver of pre-emption rights.
Shareholder approval giving directors the authority to allot shares.
Allotment of shares where a new share class is created.
Produce amazing company documents in Inform Direct
Inform Direct produces an enormous range of minutes, resolutions, notices, forms, letters and other documents - all at the touch of a button
Start now
We already offer all the necessary template documents to support a company appointing or reappointing auditors. With this development we provide further templates to support all other audit related matters, including:
Removal of auditors: template notice to the company of the shareholders' intention to remove and replace the current auditor and corresponding notice from the company of a general meeting if this is required to obtain shareholder approval of the removal of the current auditors.
Auditor resignation: template letter of resignation for use by the current auditors and board minute to record the resignation of the auditors.
Shareholder request for company audit: template shareholders' letter requesting that the company obtain an audit, where the company is ordinarily exempt from auditing its accounts under section 476 of the Companies Act 2006.
We already provide templates to support a change of company name by special resolution of the shareholders. We are now able to offer further templates that provide comprehensive support at all stages of the process of changing company name – from the beginning, with a template notice of the general meeting needed to gain shareholder approval, to the end, with a template letter to the company auditors informing them of the proposed change of company name. A company can also change name without shareholder approval, if provision in the articles of association so allow, and we've added a template board minute resolving to change company name by provision in the articles to support this option.
Inform Direct helps you to produce compliant, stylish documents
With these latest additions, all available from your Template Library, we are able to support a wide range of company secretarial scenarios. All the templates are fully editable, consistently and professionally styled, and where appropriate you can even add your company's logo.
We aim to provide the most comprehensive company secretarial document resource available and are always looking to boost our library of template documents. If there are other template documents that you would like Inform Direct to offer, please do get in touch with us!
---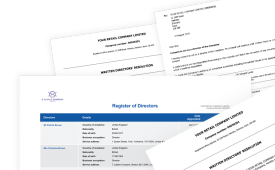 Easily produce amazing minutes, resolutions and other documents - all at the touch of a button
Start now
---