We have just added an exciting new feature to Inform Direct that allows subscribers to generate a number of reports showing information about their account and their clients' companies.
The reports include:
Companies House filing due dates
alerts, notifications and activity
basic company details
registered office addresses
SIC codes
invoices raised by Inform Direct
details of your users
Don't miss a Companies House filing date
Download from Inform Direct reports of your clients' Companies House filing due dates to help you ensure that these are met.
Start now
The reports are generated as .xls spreadsheets with headings and formatting that allow easy reading.  You can also sort, filter and edit the generated reports as required.
The invoices report lets you see your payments to Inform Direct and the users report allows you to easily review the permissions that each of your users has.
The Companies House filing due dates report covers both the confirmation statement due dates and the accounts due dates to help you ensure that these important deadlines are met.
The alerts, notifications and activity report includes the following from each company's dashboard:
outstanding alerts – these detail what needs to be done for the company;
notifications – these indicate how Companies House has dealt with the submissions made using Inform Direct; and
activity – this details each action carried out for the company.
The company details report includes the following for the active companies in your portfolio:
name;
registered number;
date of incorporation;
any previous names;
SIC codes and description for the company's trade classifications;
registered office address;
any Single Alternative Inspection Location (SAIL) address;
country of registration;
type of company (eg private limited by shares, PLC, LLP or limited by guarantee);
its status (ie active, in liquidation, dissolved, etc);
its accounts category.
The reports can be tailored only to include selected companies.  In addition some reports can also be tailored to just show items in a set date range.
We will shortly be adding a number of further reports including:
shareholders and their shareholdings;
officers and PSCs;
person addresses;
share transactions and dividends; and
mortgages and charges.
---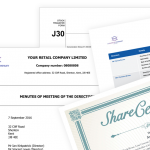 Use Inform Direct to make it easy to manage your clients' statutory books and Companies House filings
Start now
---