Further to our release on 12 February 2019 we have now added 13 further reports to the existing suite of 12 that subscribers can use to generate information about their account and their clients' companies.
These new reports include:
shareholders and their shareholdings;
officers and PSCs;
person addresses;
share transactions and dividends; and
mortgages and charges.
Generate a report of your clients' shareholders
Use Inform Direct to generate reports of the shareholders of your clients' companies and the dividends paid by your clients' companies
Start now
We now have a full suite of reports allowing you to see all the information held within Inform Direct for your clients in a easy manner.  All the new reports, as for the existing ones, are generated as .xls spreadsheets with headings and you can also sort, filter and edit the generated reports as required.
The reports can be tailored only to include selected companies.   This means that you can, for example, generate reports for one of your clients showing all the current people of, or all the current addresses used for, or the current shareholders of and their shareholdings in, that client's company.
Rather than showing all the current people you can just generate reports just showing the officers or PSCs for one or more of your clients' companies.  Similarly you can generate reports just showing each person's residential address or each service address rather than all of the addresses if you prefer.
In addition some reports, for example the share transaction report or the dividends paid report, can also be tailored to just show items in a set date range rather than all such items.  This means that you can generate reports showing all the dividends paid in the last tax year or all the share transactions in the last year.
Please do let us have any feedback on this or any other features of Inform Direct that would help you with your company secretarial work.
---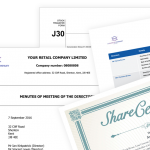 Use Inform Direct to make it easy to manage your clients' statutory books and Companies House filings
Start now
---