Committed to Data Protection
At Inform Direct, we have always taken data protection matters seriously, often employing a more stringent approach than required by any guidelines because we know how important data security is, to both our existing, and future customers. As we introduce new features for our customers to use we constantly consider the data security implications and make sure they meet our own high standard.
As you may be aware, new regulations have now been introduced which required some changes, not just to the application, but in the information that we provide about how we handle the personal data that is entered into Inform Direct. GDPR is the new regulation that is replacing the Data Protection Act, and came into force on the 25th May 2018.
Preparation for GDPR
In the run up to the 25th May 2018, the GDPR enforcement date, the following work was conducted.
Completed
Analysis of the GDPR documentation and identification of the changes needed to meet the regulations including changes to; Inform Direct, documentation, processes, and the information we provide in our Terms of Service and Privacy Policy.
Documenting the information required for 'Records of processing activities' (Article 30) about the data that we hold.
Process and procedure updates to meet the GDPR, including individual's rights and subject access requests.
Application changes to meet the regulation's requirements for obtaining consent to contact users via email with information about our product, system updates and industry news (including Companies House updates).
Updates to the Terms of Service as a result of the completed analysis conducted above.
Updates to the Privacy Policy as a result of the completed analysis conducted above.
Contacting our sub processors for an update on their GDPR compliance to ensure they are on plan to be compliant with the GDPR before the enforcement date.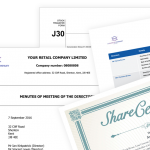 Inform Direct makes it easy to manage company records, statutory books and Companies House filings
Start now